Corporate Gifts | Client Gifts | Commercial Printing Services
If You Can Think It, We Can Do It!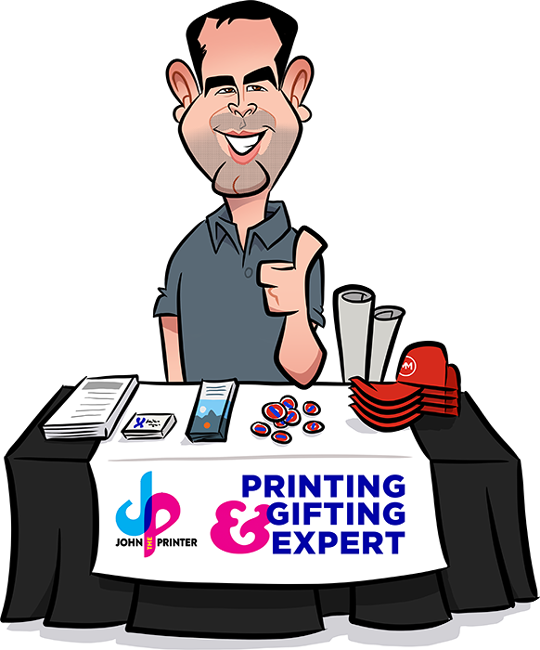 At John the Printer, we're
committed to your project!
John the Printer has been creating unique, custom gifts for small businesses for over 10 years. Our professional, creative team can create the perfect company employee gift or client gift to celebrate an anniversary, promote success, or reward accomplishments. We can even help with your next holiday event or special event by designing personalized souvenirs and swag. Each, designed and created to fit your business needs as well as your budget!
We make the process of giving gifts easy for you, so you can focus on best serving your customers.
At John the Printer, we offer different gift customizations! From mugs to shirts, everything is affordable.
Have a hard time thinking of a gift? We will help ease the burden. You can depend on us! 
We never leave a client feeling alone. Be confident that we got you from start to finish!
Just A Few Of Our Happy Customers
John is awesome! Great customer service, quality, on time delivery, creative solutions and thinking partner. Goes above and beyond. Can't recommend him enough!
Raving reviews for John! Our playbooks are always on time & any questions or changes I make to my orders, John is on top of it! Highly recommend!
John and his team are fantastic! They have been handling all of my custom printing needs for a few years now and have been prompt with delivery and always produce a great product. Anyone looking for fairly priced printing shop need look no further than John The Printer!
John is amazing and has helped my business significantly with the Monthly Playbooks!
John prints my marketing playbooks and sends out monthly gifts to my referral partners. I love the products he has created for this. John is always super responsive and willing to work with me to customize marketing pieces - nothing is too out of the box for him!
Been working with John for about 3 years. The things he's able to do are outstanding. Always open to ideas. Quality is top notch for all of his work. Give him an idea and he runs with it. Just did 35 awards for our area Top Producers and they loved them. Can't recommend him enough.
We have been doing business with John for a long time and he is the best! He delivers a great product every time, always on time. We never hesitate to order from him, and will continue doing so for a long time! Thank you for all that you do!
I have been working with John for over a year and the service just keeps getting better and better!! ( it was great to begin with too) whenever I need anything he responds quickly and takes care of my orders very quickly!! I would highly recommend dealing with him!!!!
John does great work. Always quick to respond and help. I highly recommend reaching out to John for your marketing needs.
John is always super responsive. I have ordered agent playbooks, stand up boards, stamps etc from him. He always instructs me swiftly, property and with no time wasted on my part. I love working with him for all of my printing needs!
Great working with John!! He is very prompt and professional!! Highly recommended
John's printing service is fantastic and prompt. I buy a monthly publication for my favorite realtor partners and they love it! He is responsive and great to work with! Highly recommend!
Passion, Dedication, and a lot of coffee.
We take great pride in being able to provide top-notch customer service. We are a team of hardworking people who are passionate about helping our customers design solutions to printing, promotion, and corporate gifting needs. 
We hire the best people we can find and provide a friendly, respectful, and transparent environment.
Got a Special Event or Occasion?...We Can Help.
Let us design and create the perfect Gift Basket that will impress!
Need a Promotional or Client Gift Idea?
Take a Look at Some of Our Featured Client Favorites
What's available in our Corporate Gift Baskets?
Practically anything! Here are some customers' favorite things...
Corporate Gift Baskets
Our gift baskets are filled with only the highest quality items, so you can be sure that your clients will enjoy their gifts. We've got something for everyone, whether they're sports fans, looking for a gourmet food basket, or a luxury spa basket, we can customize something just for them.